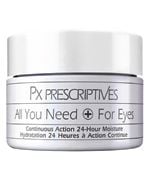 Prescriptives All You Need + For Eyes Continuous Action 24-Hour Moisture
As low as
Not Impressed...Px Makes Better For the Money

This is a good, basic eye cream for someone who is young and has no issues with puffiness or circles and has not yet developed any signs of aging. Honestly, this product does not produce any better results than any basic, mass market brand eye product that will be less than half the price of this product. If you DO have eye area issues, specifically puffiness and dark circles, than Px has a better eye cream: the Vibrant-C.

All You Need For Eyes

I recieved a nice sized sample from Prescriptives of this product. The cream is unscented which is fantastic if you are sensitive to fragrance and it has a nice texture to it. The texture is not heavy at all. It is very light, somewhat liquid-y, and it is quickly absorbed but it still does a great job moisturizing. After application, my skin feels really silky and smooth. I would say that if your ...read moreskin texture around your eye is not so smooth, this would be a good cream to apply before you put on some make up. I've been using it for about 2 months now but I noticed that my dark circles had pretty much disappeared after two weeks. I have noticed that I don't really even reach for my under eye concealer anymore. It also really helps with puffy eye bags-- if I have a night were I don't get much sleep, I wake up with hardly any eye bags; I also apply it as part of my morning skincare routine and it further diminishes bags. Being twenty four, I can't really comment on how well this product works for wrinkles or fine lines, though I would guess that because this is so moisturizing, it would at least help with the appearance of fine lines when applied. The only thing I do not love about this product is that because it is so liquid-y, it travels a lot (at leastit does on me). I notice that if I apply this eye cream too close to my lower eye lid, it sort of bleeds into my eye and can cause some burning and red eye. The irritation definitely can be bad if my eyes water (such as if I yawn). I just make very certain to apply it about half an inch away from my eye and massage it in very well. Other than the irritation, I would recommend it, especially if you have dark circles or puffiness under the eye.

Concealer? Why would I need that?

It's awesome! The sales lady told me that it would take a couple of days for it to work, but I could tell the next morning. I'm a graphic design college student, so I lose a lot of sleep pulling all-nighters to get something done. Because of this I get wrinkles and discoloration under my eyes. This is the best eye creme I've ever used! And believe me honey, I've used A LOT of eye cremes!
Back
to top