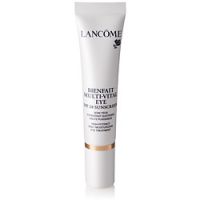 Lancome Bienfait Multi-Vital Eye SPF 28 Sunscreen
As low as
Moisturize and Protect

I got a full size of this eye cream with a set around Christmas time. This is the eye cream version of Lancome's Bienfait moisturizer, which is wonderful. It contains SPF 28 making this great for daytime. I suffer from dark circles and when I bought the set I asked the Lancome lady if this cream would do anything to help my under eye circles or puffiness. She admitted that this cream doesn't d...read moreo anything but moisturize the eye area and provide some protection from the sun. I appreciated her honesty. Too many eye creams make false claims. This does work very well to moisturize the eye area for daytime. I apply this right after my moisturizer. It blends very easily and sinks into the skin well. This works well under makeup too. I love that this has an SPF in it because so many eye creams meant for daytime still don't have that and being fair, I am very concerned with protecting my skin from the sun. Still, I wish that this cream had a little more going for it. I would like a cream that has some ingredients in it that could help calm the eye area, help with morning puffiness and such. When I finish this, if I can't find another eye cream that has SPF and some extra nourishing ingredients at a reasonable price, I may come back to this because I know it works well under makeup and has sun protection. However, this is not the ultimate eye cream and I think I can find something that will do a bit more for me.

Bright Eyes!!

I am in love with this eye cream. First of all, the cream quickly absorbs and instantly brightens your eyes. Your eyes feel smooth and hydrated all day long. I was amazed at how bright my eyes looked, I didn't even need to wear concealer!
Back
to top