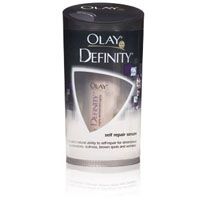 Olay Definity Self Repair Serum
As low as
My face feel 10 years younger

I AM A 46 YEAR OLD LADY WHS HAS HAD A LOT OF HEALTH PROBLEMS, BUT HERE LATELY PEOPLE THINK I'M GETTING WELL OR ASK ME WHAT I DOING TO LOOK SO GOOD AND I TELL THEM , IT'S THE OLAY DEFINITY AND THAT THEY SHOULD TRY IT EVEY DAY OR SURPRISE THERE GIRL OR SPOUSE BECAUSE IT MAKES ALL THE DIFFEENCE AND MAKES A WOMAN FEEL AND LOOK LIKE A WOMAN AGAIN. I KNOW I DO. THE MONEY YOU SPEND MAKES IT ALL WORTH IT AND THE PACKAGING MAKES LOOK AS GOOD AS IT IS THANK-YOU LAURA TRENTMAN

Loving this!

My skin is smoother, brighter, and more even-toned after less than a month. Oh yeah, and I have Rosacea! I have felt no irritation or flare-ups. My skin craves this stuff like the desert craves rain. I'll be using this forever.
Back
to top