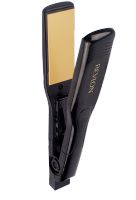 Junk

Unless you have thin hair that is already pretty straight, this is not the one for you. It just doesn't get hot enough, the whole unit feels like it's made out of cheap plastic, and the plates aren't heavy enough. Save your money and put it towards a decent straightener.

cheap but not great

I got this because i needed a flat iron quickly on a trip. I was good at the beginning , my curly hair got sleek and shiny. But with time it started to get me a lot of split ends and it didn't get enough hot, so my hair didn't get as nice. The plates are ceramic covered, not 100% ceramic so it starts to go off. My advice: save some more money and buy one a little better.

4 Star Product

I have curly, medium hair. I always used to go for straighteners that go up to 450°F but my hair is in much better condition that before so my hair doesn't require so much heat to get the achieved look I'm going for. This one goes up all the way to 400°F as it says but it gets a little hotter than that. It had gotten so hot that the sheets on the plates started to burn off but doesn't burn off my hair thank gosh. This is a good average straightener. Nothing really special to it.