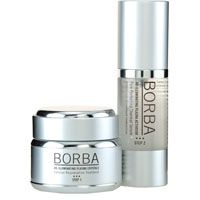 Borba HD-Illiminating Plasma Crystals
As low as
Will make you blue (literally)

It's hard not to be impressed by this scrub. Mica particles make it shimmer like diamonds and it feels warm to the touch. After using it, my skin felt fantastic. Curious about the ingredients, I did a little digging and found that it contains silver, which turns your skin blue. Ingesting silver over a period of time will turn your skin blue, and scrubbing this into your skin so the silver particle...read mores become trapped in your pores and tiny tears will also turn your skin blue, permanently.

just wow.

I ended up getting this simply for the fact that i found it so so so cheap on folica and i figured why the heck not. man, am i glad i did. the first time i opened the jar i was both amazed and scared. it looked like liquid glitter, filled with silver specks. i was sure it was going to leave my skin a glittery shiney mess. so after i got over gawking at how sparkly the whole affair was i used it. s...read morecrubed the crystals on for a minute or two and then use the peel serum over the top of them for another minute or two. once i rinsed i realized just how amazing this product is. i can honestly say that in all my life working in cosmetics and being a huge product junkie like most of you this product gave me the smoothest silkiest and brightest skin ive ever had. pores faded and my complextion really really glowed. and yes without any glitter involved. do urself a favor and at least give this a try like i did. i loved it so much i went on borba's website and bought 3 other products the next week later. ill definitely be buying this again when i run out. full price or not!
Back
to top