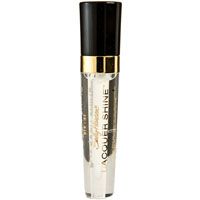 Just No...

This is one of the stickiest, nastiest-textured lip glosses I've ever owned. I absolutely hated the texture, which is a true shame because the colors were beautiful. I owned this in Iris, Hibiscus, and Dahlia. The two darker shades were a lovely color, but I simply could not get past how tacky and awful they felt on my lips.

Ugh!

It's so sticky! Lipgloss are supposed to be apply and go type of thing. I hate having to blot and check to make sure that the color is still there. I'm more of a no muss, no fuss, grab and go type of girl. I don't want to have to be checking in a mirror every time I apply this gloss. You might as well be wearing a lipstick. I do like the color I picked but that's pretty much it. :(

Love the color, but have to reapply often

I also love the Peony color. It's somewhat sticky but the color pay off is worth it. Makes my lips feel smooth. But I have to reapply it like every 15 minutes because it seems to disappear from my lips quickly.
Back
to top