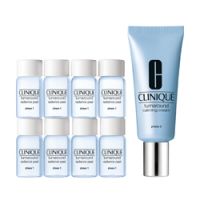 Not sure I'm seeing results yet, but am completely willing to stick it out!

It is making my skin feel amazing even though I'm not sure I'm seeing a difference in my skin. It's not too harsh for my skin but I can definitely feel it working. After a good cleaning with my Clarisonic and a dose of this, my skin feels amazing but refreshed within hours, and no redness. I think I may buy another round when it ends even if I don't see a major difference, that's how much I'm enjoying the changes it makes to the texture of my skin.

Really helps to even out my skin tone

I have dark spots all over my face, mainly on my forehead, from pimples. Using the turnaround product has made a great improvement on my skin tone. It doesnt dry out my skin too much and I dont have to use the whole bottle. It does cost a lot so I only use half of a bottle. It works even better if you use it after the clarisonic machine. For those of you that have the clarisonc at home imgaine wha...read moret will happen to your skin when you use the turn around product after the machine. The both of them works well together and there both a must have.

GREAT product!

I use this product religiously once a week. I have used it for 32 weeks now and I have seen dramatic results. I had brown splotches across my nose and cheeks from my pregnancies that completely vanished after 6 weeks of using this product. It also banished old acne scars. After the first application my skin appeared smoother and glowed from within. After 32 weeks my skin looks more youthful, brigh...read moret, and the appearance of fine lines and pores have greatly diminished. This is a product that I simply can not do without, and the price is perfect! $6.88 a week!! You can't do much better than that!!
Back
to top