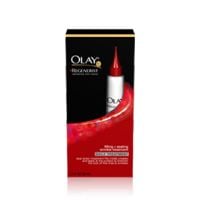 On the fence . . .

This product feels fantastic on your skin leaving it smooth and silky. It also has a very faint pleasant smell when first applied. With that said, I tried it on one side and left one side without product. I could not see a difference. I then applied foundation to see if there was a difference with the treatment + foundation, again I could not see a difference. I love the way this feels on my skin, but I don't see any wrinkle filling evidence on my fair skin.

Immediate Wrinkle Relief

I have one large expression line across my forehead and also the dreaded "parenthesis" aka smile lines. If you use this according to the directions (making a bunch of dots along the wrinkle, and then smoothing them together) this works wonderfully well. You only need a little product for each area, so this would last you a long time. This makes my skin so smooth! The only sad thing is th...read moreat when I use this day after day, I start to break out :( I love the immediate effects of this... it does exactly what it says it will do. On the other hand, I am so mad that I can't use this every day because it breaks me out.

LOVE IT!

It must be "hit or miss" with this product. I have known people who don't feel they got the results that I did. I am in my 40's with fine lines. I have tried many "quick fix fill" products, but this one is my favorite. I love how smooth it goes on and fills the pores all over my face. It looks great under make-up, but I prefer to put it on last, and keep it in my purse for use throughout the day. ...read moreIt REALLY works! This product makes my skin look smooth and wrinkle-free. A MUCH BETTER alternative than Botox.
Back
to top