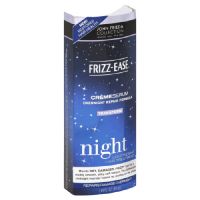 Plausible

This serum leaves my dry and damaged hair a little more manageable, hydrated and straight when I wake up, but my hair does not become completely frizz-free. Also, I still prefer a good intensive conditioner or hair mask to any overnight serum. This serum does not make my hair look oily or leave a stain on my pillow case, however, I just don't feel clean to leave the serum on my hair overnight. That's just me.

Night or Day

Product work fairly well not stupendous but well enough for me to buy it again. if your someone like me who takes showers at night so they can sleep in before work I suggest applying the creme before you leave for work then when you take a shower at night the product as been in your hair for at least 8 hours or more giving you that over the night treatment

Made my dry wavy hair feel soft and easy to comb

The quality of this product is great. It is light and absorbs right into my hair. It hasn't left any residue on my pillow. It smells great. In the morning after I wash my hair it is much more manageable, not as frizzy and easier to comb through. I thought that the product did live up to its claims. The value was good. You could leave it in the hair longer if you want, it does cause it to be heavy, but that is to be expected.
Back
to top