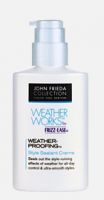 I like this product

It was a good product. It kept my hair style in place for up to 8 hours, and I have no frizz. Love!

Not for me

I honestly did not see a difference when using this product. I am generally a fan of John Frieda and tried this product per recommendation of a friend, but my hair was no more protected from the humidity than without product, and it feels a little greasy. I've given it many chances, but I'm always let down. There are much better products out there that boast similar claims; don't wast your money on this one.

Useless!!!

I am usually a fan of John Freida products, but I have to say this product does absolutely nothing to combat my frizzies! I live in a VERY hot and humid climate in Asia, so I need some industrial strenth products to help my hair from looking like cotton candy. I bought the sealant, along with the Weather Works shampoo and conditioner, before I left the US. Unfortunately, even after using all 3 pro...read moreducts, my hair is a frizzy mess before I even step out of the house. Maybe this product would work better in drier climates, but it definitely does not have the strength to work in very humid conditions (in my opinion). Disappointing!
Back
to top