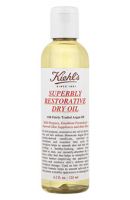 Kiehl's Superbly Restorative Dry Oil
As low as
Intensive Oil

Kiehl's Aragan oil leaves my skin feeling hydrated without the feel that lotions leave behind. This is a great product if your skin is dehydrated. I would recommend using this at night since it's a tad greasy. It will leave anything you touch with a nice greasy sheen.

Kiehl's Superbly Restorative Dry Oil: OMG I can use it on my skin and hair?!?!!!!

I finally broke open the Superbly Restorative Dry Oil from Kiehl's and I can't stop applying it. The combination of eucalyptus, cedarwood, and orange are heavenly (sweet and earthy). My skin (and at this point my latptop;) are greedily absorbing this magical Moroccan oil and if there is any left in the morning I am going to try it on my hair and report back. Any one product that can improve my ski...read moren's suppleness and hair sheen at the same time, from the very same bottle, is a must have in my book. I can especially see how this would be a useful product to travel with. In fact if I were on a desert island for a week by myself (and could run around with greasy hair without serious social and professional consequences) I'd bath in this Aragan Oil-based product and soak my hair in it just because it is like a yummy meal for my whole body.
Back
to top