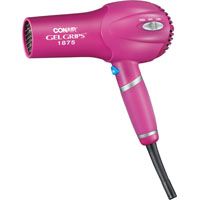 Conair Gel Grips Hair Dryer
As low as
Meh...

This was an okay hair dryer.

Like the gel grips!

I like the gel grips how it reduces (by a lil bit) the chance of me dropping the hairdryer on my foot! But I wouldn't recommend this hairdryer over any other! I personally prefer the conair ion shine! At least over this.

Average

This is just your 'ol average hair dryer. I got it free (*cheer*) at Walmart. It doesn't do very good on my hair, it makes my hair frizzy and split-endy...a job that even a Chi won't be able to fix. I know its not my hair's fault (c'mon, I get my hair done at the salon...I KNOW that all blow dryers aren't crappy.) The grips on the handle are cool, but not a neccessity in a blow dry. I especially l...read moreike how it has a 'cool' button...When you click it, it blasts cool air on your face. This is especially helpful because the blow dryer gets really hot and takes forever to do the job. (Hot air on face + really long period of time = no fun!) The attatchable piece that is for blowing your hair straight really doesn't work.
Back
to top