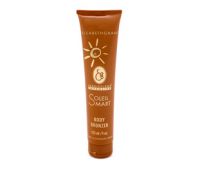 Elizabeth Grant Soleil Smart Body Bronzer
As low as
Tanner with a brain!

I've decided that this one has a brain! It's almost like it knew what color would be best for me… I know I've tried some where the color looks the same on me as it would the girl-next-door. Soleil Smart worked it's magic in about 2 hours and stopped at the perfect shade and tone. It has more of a gel consistency when you apply it so it's a point of difference if you have a preference.

This Bronzer is No Joke

If you want a bronze glow, this is the bronzer to give it to you! It's a lovely brown, with no orange glow. However, you have to be diligent in your application, because this will streak. I consider myself fairly experienced with self tanning products, and I can tell you that this one required every bit of my skill to manage, and I still ended up with a few spots that just didn't work for me. I wo...read moreuldn't attempt this one without gloves, and a great deal of patience and attention. There isn't any rushing through this application. However, the bronze will be well worth it. A couple of downsides: there is still the noticeable smell (which doesn't bother me nearly as much as other people - I apply it at night and shower again in the morning, no problem), and the price point is fairly high.
Back
to top