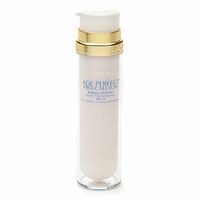 L'Oreal Age Perfect Pro-Calcium Radiance

I bought it some time ago and still wear it almost every day, only stipple some powder on top of it. The look is radiant. rosy, I don't have any problem with it.

Love this product!

this product was great. It was a light moisturizer that also helped to hide the age spots. They took it off the shelves where I bought it before (Walgreens) so I hope to find it somewhere else. it was the best!

Great Product!

I love this product and I am on my second pump. If you want to look healthy , like you've been in the sun, but natural, not orange, then this is for you! It's all the moisturizer I need, and actually, you can even ditch the foundation. I swear I noticed my sun spots on my face fading, especially with my first purchase, maybe not as much this time around, but I feel it does what it claims! I love the age perfect line and it really is great for over 50 skin!
Back
to top