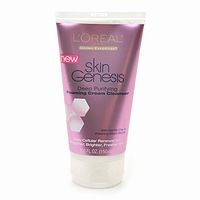 Intensely Irritating

I wanted to love this product, with it's pretty metallic pink tube, mild exfoliating feel, and promise of "cellualr renewal". Alas, after a few days of use, I ended up with red, inflamed patches on my face. I blamed it on a few other products I'd been using before finally tracing it to this cleanser. It took a week of using pore-clogging hydrocortisone cream to calm the rash down. That w...read moreas five months ago. I tried to use the cleanser once again, just the other day (to test if it was a temporary problem I was having), and that rash flared right back up. Perhaps for someone who doesn't have remotely sensitive skin (which I didn't, prior to using this), this might be a decent product.

Good smell

It clean my skin deeply without any harm & irretation,I like its fregrance

Skin Genesis

I decided to give this a try after reading about it in a beauty blog. It really deep cleans and provides a light exfoliation but is too strong for my combo skin. My skin is left feeling dry and tight after I use it.
Back
to top