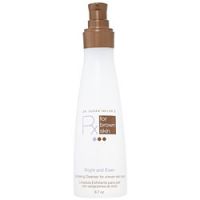 Rx for Brown Skin Bright and Even Exfoliating Cleanser
As low as
Good Cleanser

I like this cleanser. It removes make up well and leaves my skin smooth. The cleanser feels milky and the exfoliators are very soft. This cleanser also helps skin have a natural glow. I recomended the product to some friends and they liked it also.

Great Basic Cleanser - Smoother Skin

Initially I purchased the Bright & Even set, which is a great way to try the entire regimen (also a very good deal). I do not use it 2x a day, since I address different skin needs during the AM and PM. I use this after removing makeup at night. It is watery in texture, produces a mild foam and leaves my skin smooth without being overly tight. It is not meant to be used as a makeup remover or a...read moreround the eye area. I haven't experienced any adverse effects to this cleanser, which is a great thing since I have very sensitive combination skin (prone to breakouts and aging...woohoo!). So while there are some improvements that could be made to the product (I hate the packaging...its flat out ugly and the texture could be a little thicker) - I still really like it. It does what its supposed to do.
Back
to top