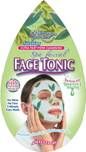 cant beat these little treats

i love the little cloth masks. they are so easy to fit into any day. i try and do some kind of mask/treatments everyday, esp when im stressed bc it reminds me to relax a little. this mask smells great, very much like vapo rub, so it esp helps with sinus headache, and the tingle feels cool on my face. plus they are very affordable!

Very nice feel 2 it

Its very good and its nice 2 where it at a sleepover or just at home seeing dvd on tv and just need anyway it good!

skin's all in one quick fix!

I am a new mom of a darling little girl and work for myself part time, so...I love products that solve several problems at once. Not only is it so relaxing to wear this mask for the 5 minutes, I like to wear it a little longer just to squeeze in a little more "me" time, but the next morning my skin looks and feels wonderful! Right after I take the mask off, my skin feels clean and soft...read more, but I can feel the mask working a couple of days after!! It's cheap, quick, relaxing, and cleansing all in one!! HURRAY!!
Back
to top