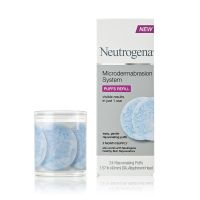 Easy to use

I think these pads are quite abrasive, but they do the job. My face feels smooth and clean after using the pads that attached to their Rejuvenator. The foam is moisturizing that it does not dry out my skin. Although the Rejuvenator has not eliminated my wrinkles, I like how it softens and cleanses my face. The directions suggest "use up to 3 times a week", but 1 or 2 times a week is enough for me....read more The refills were expensive, thus, I re-use each one at least twice (even the second time, it creates enough foam). Even though I don't use as often as directed, the pads still run out fast. Lately I am having a hard time finding the refill pads. I am afraid that the Rejuvenator may be discontinued in the near future. I hope not!

Puff Refills Effective!

If you are looking for an at home microderm abrasion product, this is what you have been looking for. The puffs are easy to use alone or with the microderm abrasion system. However, I have found that using the puffs alone with water is more effective and less abrasive than using them with the system itself. After using the puffs, I noticed a big difference in the texture of my skin. It leaves...read more it feeling soft and smooth every time. I recommend using the puffs alone because as I mentioned earlier, using the puff with the vibrating system is less abrasive and equally if not more effective. I haven't used any other system to compare it to, but this is effective.

Pretty good!

This definitely is not something that I would ever use more than maybe three or four times a week. If I did it would probably really dry out my skin. This does a very good job to help get some of the extra junk out of my pores. My favorite way to use this is to put it on the thing and use it all over, mainly focusing on my T-zone and anywhere I have black heads. Then I use a washcloth to get r...read moreid of any excess residue. Last, I wet my face where I have black heads and use biore pore strips to help get rid of the stuff left in them. Using the Neutrogena stuff first helps loosen some of the bacteria up. If you have very sensitive skin this definitely would not be good for you. If these pads actually do not exfoliate enough for you, they do make ones that are a little rougher and made to exfoliate.
Back
to top