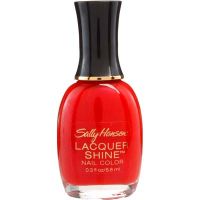 Sally Hansen Lacquer Shine Nail Color
As low as
Doesn't hold up well

I bought this polish in Flair, a pretty metallic red. It looked good even with just one coat, and it was shiny enough not to necessitate a topcoat (but I used one anyway). The problem was how the bottle of polish itself aged. After just a couple uses, the polish really started to thicken and the drying time required for it became excessive. I only got to use this for a month or two before it becam...read moree unusable because it was so thick. I stored it the same way I store all of my nail polish - in a box in the hall closet - so I know I didn't do anything wierd that could've ruined it.

LOVE IT

I love this nail polish. The color is bright. It goes on SO well...and it really only needs ONE coat! It dries really fast too. I don't know how long it will last, but I really like it so much.

Super glossy

I can usually tell right away if I will like a polish by how it goes on. This one went on super smooth and has a brilliant lacquer like shine. I really do like this polish. I will buy almost all the colors. I already have 4!!
Back
to top