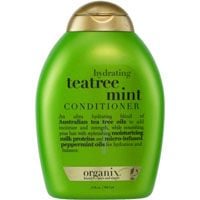 Sad to let it go.

I was in love with the scent of this conditioner, but found it to be drying in my hair. I was sorry to have to stop using it, but I had a lot of breakage, and the scent didn't really last that long anyway.

Morning pick me up

This is a great product to have in your shower first thing in the morning. The smell will perk you up in no time. I have fine hair, and this never weighs it down or leaves a residue that makes my hair oily or dirty feeling by the end of the day. I also am a big fan of the Shea shampoo and conditioner that aren't listed on this site yet. Those have a brown sugar and vanilla smell and work wonde...read morers when my hair is feeling dry. Again, those clean and hydrate without weighing my hair down or making it feel funky. A bit pricey for the size, but they work well.

feels soooo good on my scalp!

I really love this brand. I need to check out their other scents, because I have been using the Teatree Mint for roughly a year now. It's a great price, and a great product. I even converted one of my guy friends to start using it, because his Wal-mart brand shampoo was making his head look a haystack. After a week of using this, he had a completely different head of hair. (Not literally, of cours...read moree.) After using the shampoo I like to apply the conditioner with a comb and actually get in onto my scalp. I know that normally you're to avoid getting conditioner on your scalp, but this one rinses so well that it doesn't bog my hair down and I adore the tingly sensation. After using this my hair feels super CLEAN. It's an invigorating scent, so save this one for in the mornings when you need a kick in the keister to get you going.
Back
to top