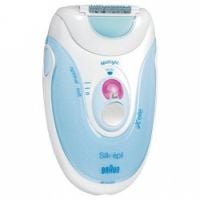 Haven't gotten it down yet...

I'm still a bit undecided on this product. I've been using it on my legs for 2 months after having always been a shaver. It was painful at first, but is much less so now (still hurts most in upper thigh area). My biggest problems are 1) it doesn't get all the hair, and I always have a stubbly feeling and 2) a lot of hair seems to break off so it comes back really quickly (and there's a stubbly ...read morefeeling). I am thinking of trying to wax a few months now and then return to it because that's essentially what I did with my underarms and it works a lot better there (though that area is SUPER painful!)

Smoooooooth!

I absolutely love the Braun Epilator. I used it first on my knuckles and hands, which was a bit painful at first, but the results were worth it. The hairs are much easier to remove after a good soak in the tub, and nearly pain free. I no longer have to shave my legs with a razor or use hair removal creams. I can remain smooth for weeks at a time.

Best hair remover ever

Ive been shaving for years and shaving for that long tine makes the hair grow thicker and it grow faster like i shave every other day since im asian i got a black hair so its really not nice to look at my legs with black hair. Decided to try braun silk epil. And i like it. It hurts yeah but its better than shaving coz it's removing hair from roots that makes hair grow slower and less thick than be...read morefore. It does hurt tho but hey no pain no gain, right? I definitely gonna recommend this to my friends and my sister and to you too.
Back
to top