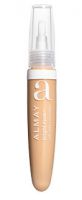 solid performance

This concealer is pretty good for every-day use. It gives medium coverage, so if you have really dark under-eye circles you might want to choose something else. It does brighten my eyes, and doesn't look cakey. The package is absolutely terrible, and i must have gotten a defective tube, because the product doesn't go through the brush most of the time. In fact the tube cracked where the applicato...read morer is attached to it, so i basically end up taking off the applicator and using my fingers to pat it under my eyes. It wears ok, sometimes creases a bit in the lines, but not too bad. A huge plus is that it works good on dry skin and doesn't smell. Won't buy again, nd mainly because the packaging is so awful and messy.

Not Good at All

I hate this concealer. It doesn't blend well at all, and provides very minimal coverage. I can imagine that the color is too yellow for most people, too. It didn't serve well as an eyeshadow base, either, mainly because it's too yellow to use on the eyelid, and is too moist to work as a shadow primer. Also, they claim that it contains ingredients to reduce puffiness, but I saw no evidence of that. This wasn't that cheap, so it was quite a disappointment.

Counteracts circles

Finally a budget concealer that hits it right on the head with the yellow tone to counteract dark, blue undereye circles. This concealer does it's job of concealing shadows and brightening up the whole eye area. As far as the eye base part? They could have left out that gimmick and just stuck to what the concealer really does well. The applicator isn't genious, but it's not ineffective either thou...read moregh I could have done without the messy, squeezy tube and brush. The formula and the concealing and brightening qualities are worth the purchase here; it accomplishes these feats better than any other drugstore concealer I've tried to date.
Back
to top