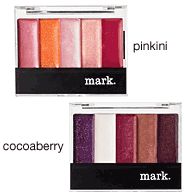 mark Kiss of Glam Gloss Palette for Lips
As low as
Review subject

beautiful colors, and great compact.

very nice

the glosses are very sheer, but noticable and they are never sticky even tho they dont last very long. you shouldnt jam your finger into them tho because they are softer than they look and the seperating walls between the individual shades collapse easily! some of them have a soft shimmery glimmer to them that is SO pretty. nice little product and the case they come in can hold two eyeshadows when your gloss is all gone!

Mark Lip Palette

I'll start off by saying I absolutely love the colors of these glosses, but for me I have lips on the bigger side so it takes a lot of gloss for me to get the coverage and look I want with these. There isn't a whole lot of gloss for each other color so it doesn't last very long is you're a lipgloss queen. My only problem is the size, other than that it's a great gloss at least worth trying once.
Back
to top