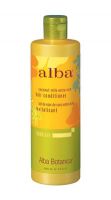 Soft and shiny

This is one of the best conditioners out there! I have used this on and off for the last few months. It leaves my hair feeling silky and soft. The shine is just right. However, I had a slight problem with the conditioner making my hair overly silky. (I know such a weird thing to complain about!) When I was drying my hair, it would frizz out because of how silky/soft it was. Instead of using...read more this conditioner with just the conditioner, I would add another conditioner to it (like a leave in) and that would make a difference in the texture of my hair. If you had extremely coarse hair, I would highly recommend this.

pretty nice :)

I really like this conditioner. It leaves my hair soft and hydrated, but not overly so. My hair is really prone to getting greasy, so I was kind of worried when I bought this shampoo and conditioner because in all honesty, I bought it for the smell :) This is the perfect balance for my hair though. My only gripe is that the conditioner is SO thick, it's hard to get out of the bottle unless you sto...read morere the bottle upside down. It should come in a bottle that dispenses from the bottom. But good other than that little technicality.

dry locks and an unhappy curly mess

this conditioner left my locks ravaged and like i had poured chlorine on it. I was so unhappy.
Back
to top