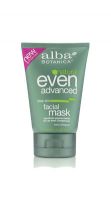 Alba Deep Sea Facial Mask
As low as
Sit Back and Get More Beautiful!

One thing I detest on my face is enlarged pores. Despite the fact that I use Clarisonic regularly (okay, some days I forget or am too rushed), my nose and chin recently became hotbeds of imperfections. Enough! I can't stand this. I reached for a new product for me, Alba's "Deep Sea Facial Mask." I had read some good reviews about it, and my local drugstore featured it. So I picked it up for...read more less than $10.00. Alba uses kaolin, a clay which has been used as an ingredient in skin care for many centuries. Kaolin gently draws grime and oil from deep within pores. This is not just for oily skin--it works well for dry skin as well. Alba adds glycerin, aloe leaf juice, and safflower seed oil to ensure a velvety feel when you have rinsed it from your complexion. Alba also includes a marine complex to hydrate, stimulate cell regeneration, and nourish. After several treatments, my pores are cleansed and greatly diminished. The mask gives a "taut" feel to skin when it's applied and even after, and skin has a radiance and clarity which is to be cherished. I love this mask. I recommend it for anyone who wants to relax to a subtle, menthol-type scent for about twenty minutes and wind up glowing!

Great for dry skin

This really exfoliates and hydrates. I had a stubborn dry patch that wouldn't go away no matter what. I tried exfoliating and heavy moisturizers. I tried this just as a new product. When I took it off the dry patch was gone and my entire face was extremely smooth. Not a very expensive product and great, especially in the winter.

Deep cleaning

I use this when I feel like my face has a lot of clogged pores on it or when it is on the verge of a breakout. It doesn't irritate my skin, which is definitely a plus. It can be used more than a couple of times a week for that reason. Whenever I use it I feel like it has gotten somewhere that I couldn't get with my face wash and scrub. It is very pleasant to use.
Back
to top