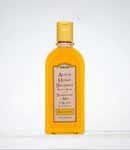 Perlier Acacia Honey Shampoo
As low as
I go ga-ga over Perlier products, but this one . . .

As a teenager of the rockin' 70's, having wild/untamed hair, I used Fabrege's Wheat Germ Oil & Honey Shampoo everyday. I can still "smell" this wonderful product. It certainly lived up to my expections then. Not only did it leave my hair soft and shiny, it smelled absolutely marvelous! Unfortunately, I cannot find it anywhere, whether beauty supply stores, drug stores, or discount o...read moreutlet stores. So when I spotted Perlier Acacia Honey Shampoo at a department store, I grabbed it. I thought it would just a wonderful as the product of my youth. I was very disappointed. I've tried so many Perlier products, but this is the only one that hasn't met my expectations. I thought it would soften my hair, but it performs more like a clarifying shampoo and I have to use A LOT to get the lather going. Not a good bang for the buck, sadly. So I continue to use it as a clarifying shampoo.

Not so impressed with this shampoo, although I usually love Perlier products.

I didn't find this to be a bad shampoo, just okay considering how wonderful every other Perlier product I've used. I think I'll stick with shampoos from the salon lines I use and use Perlier for my skin products.
Back
to top