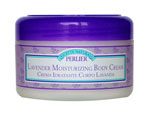 Perlier Lavender Body Moisturizing Cream
As low as
Better than average

I would say this cream hydrates better than most. It leaves a subtle scent. I guess my main issue is that it smells very dated and reminds me of an old fragrance. I wouldn't pay full price, mainly because they often have sales where you can get this for much cheaper. If you get this on sale it is totally worth your money!!

A little dab goes a long, long way

I often use this product as a hand lotion (as well as other Perlier lotions and creams). I particularly like to use the Perlier lotions after a mani-pedi. The scent is very light and lasts most of the day. I often give Perlier products as birthday and Christmas gifts.

Perlier lavender body moisturizing cream

Love, love these products, lasts long time, little goes a long way, no chemicals used and they stand behind their products. All made in Italy by the famous Borghese family. The fragrance is intoxicating and does not smell obnoxiously strong. Very feminine. Worth every penny. They make sure all products are made with the real flowers, pesticide free. My favorite line of body products!!!!!
Back
to top