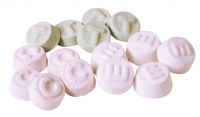 Lush Toner Tabs
As low as
Tea tree tab is a keeper!

This has done a good job in helping to clear up my face when I have potential breakouts simmering. The steaming is really nice. I often have deep cysts that linger without ever coming to head, and this brings them up so I can clean them. There is definitly less reinfection with this too!

Not Impressed

I like Lush Products but this did not win me over (I got the tea tree tab to help with acne). Instead of using toner tabs I just use the tea tree water. It was somewhat refreshing and my skin looked a little better but there was nothing long term. Maybe you have to use it more than once but I won't be finding out. Good for a nice facial steam but not to improve skin texture and acne problems

Tea Tree Tab is A+!

After starting my job at Lush, I was hesitant to try a solid form of toner. One day, a tab broke and so I decided to take it home and give it a go and boy was I glad I did! Just plunk the tab into some hot water and put your face over it with a towel to soak up the steam. Dip a cotton pad in and rub over face. Take the rest of the liquid and fill a spray/pump/whatever bottle up to refresh thro...read moreughout the day! It'll stay fresh for a few days and the toner is wonderful on oily/combo skin! I don't feel greasy and I definitely don't feel dried out! One of my best purchased from Lush!
Back
to top