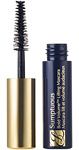 Good, but Not Spectacular

And the hunt for the "perfect" mascara continues. At least I'm adding a lot to my stash of favorites--Lancôme's "Definicils," Buxom's version, Benefit's "They're Real!," Ellis Faas, and Maybelline's "Full and Soft," among others. I tried Estée Lauder's Bold Volume™ Lifting Mascara and was pleased--unfortunately, not as pleased as I hoped to be. Lauder proclaims that this formula has an "Unp...read morerecedented Bold Volume™ formula, with lash-thickening fibers . . . lifts and plumps even sparse lashes into big, lush lashes that are all lightness and flirtatious curl . . . Sumptuous Mascara takes your lashes all the way to big, bold, beautiful." This was a good mascara, but not great. I love the fact that it is available in two colors, both brown and black, as I sometimes want a softer look with brown. The brush is nicely shaped and easy to work with. I curled my own lashes beforehand, as usual (never stray from my Shu Uemura curler), but I didn't find the outrageous results I was expecting. There was some increase in length and a bit in volume, but "flirtacious curl?" It didn't happen. This is a nice basic mascara, but nothing spectacular. I will use this again, but it is pricey ($22.00) when you don't reap all of the benefits promised.

Love EL mascara!

I received this in my Estee Lauder GWP and love it. It has a pleasant smell, I love the rich black pigment it has, and the brush is a tapered brush which is really nice so I can hit my little lashes on the inside of my eye area. This mascara separates my lashes nicely darkens them more, gives me volume, is clump free, and I only need to do one coat. The only thing I would say that I don't like ...read moreabout this mascara is it tends to hit my eyelids when I blink and very few mascaras do that when I blink. Maybe the formula is so wet it just does I don't know...However, I would still recommend this mascara if you're a EL fan and want to stay in that line.

Seems Good to Me

I got a sample of this mascara with my last Estee Lauder purchase and although I'm not much of an eye make-up user (more of a lip cosmetics aficionado) it seemed to work great. The last time I went out on a date, I curled my lashes and used this mascara. The brush was nice and thick and made my lashes more prominent and flirty. I thought it was easy to use and it really did look good. If the real size is just as good, I imagine it would get great ratings.
Back
to top