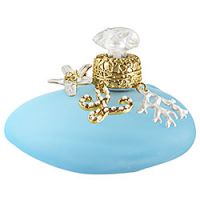 Lolita Lempicka Fleur de Corail Eau de Parfum Spray
As low as
Odd

I got a sample set of this fragrance, bath gel, and lotion from Sephora but I'm giving it away. Lolita fragrances tend to be a conglomerate of of florals, musks, and others that mesh in an odd way. I didn't find this scent horrible (Nice in an odd way) but it was not good on me for sure and it lingers. My daughter wasn't sure about it either.

My Go-to Fragrance

I tend to like the beachier scents, ones with that salty and fruity feel that brings you back to childhhod summers and after trying this at a sephora, I fell in love; its the perfect beachy scent. I'm on bottle number three now and I'm constantly getting compliments on how good I always smell. It is fresh but fun and doesnt change over time and not overpowering at all. I also liek that it is a fem...read moreinine beachy scent as they often tend to be too fruity and smells almsot like a shower gel. My best freind calls it a "happy" scent. I wear it primaarily in the Spring and Summer but every now and again I wear it to brighten up a rainy winter day. The bottle is really pretty too, and I love setting it with the shells and seaglass I've collected at beaches I've been too. I haven't found a Lolita fragrance I didn't like and this one takes the cake. Its beautiful and I reccomend at least getting a sample.

My perfume of choice- for a while anyway.

I like the lolita fashion style so the title kind of demanded my attention. The smell is unique and enticing, and the second most important part- the bottle- is immaculately detailed and a great decoration. I'm satisfied.
Back
to top