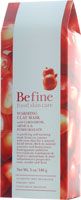 Befine Warming Clay Mask
As low as
love this

i really love this mask. you can feel the warming when you mix it with water and its a very soothing and pleasant warmth. it seems to really soften my skin too, even when it is very dry. it helps when i am very broken out also, to calm my skin. i wish there was a moisturiser like this! oPS, i leave this on for about an hour every once in a while. it like, never dries and it feels very soothing, and then my skin is SUPER soft.

Not a fan

I didn't care for this mask overall. The formula is too thick, making it hard to spread--even on a wet face, I felt like I was really pulling and tugging my skin as I applied it. I liked the warming effect, but I didn't care for the scent (it's kind of herbal: not awful, but not really pleasant). My face felt soft after I used it, but it left a weird film on my skin and on the floor of my shower. I wouldn't purchase it again.

Good mask for dry skin

This is a great mask for the winter time, if you have dry skin. My skin gets extremely dry in the winter (lots of flakes, even in my t-zone), and this is one of the few products that leaves my skin feeling moisturized. Your face should be slightly damp when you apply this - too dry, and it's too hard to spread and doesn't seem to work as well; too wet, and the mask just slides around when you try ...read moreto apply it. It warms nicely, and I usually find that at the end of the 5 minutes specified, it's still a little damp, so I leave it on an extra couple minutes. After washing off, it does leave a thin, almost oily film on your face - I think most people either love that or hate it. I hate it in the summer, but in the winter, it feels nice and moisturizing. I would not recommend this for acne-prone skin, due to the oily film it leaves on.
Back
to top