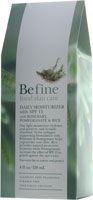 Befine Daily Moisturizer SPF 15
As low as
Great for dry skin

I really liked the Befine daily moisturizer spf 15. It is great for dry skin. It works really well around the edges of your nose and your t-zone. I wear it under my foundation and it keeps it looking nice all day.

It's... okay?

I just started using this product yesterday. I bought the Pore Refining Scrub and the firming toner and I was instantly in love with them. Then I tried this lotion and I was a little disappointed. It smells lovely, and isn't too oily for my skin (I have combo with large pores, blackhead,s and acne flare ups). I really liked the ingredients too. But it is kind of sticky and it isn't as silk...read morey as I'd like. I guess I was expecting too much for it being 25 dollars. I am going to continue buying the scrub and toner but will probably go with "Burts Bees Radiance" for the lotion next time.

It's very oily

I swooned when I read the ingredient list - pomegranate, rice bran and rosemary - couldn't be better, right? WRONG. It moisturizes really well but looks like an oil slick on my face and the shine doesn't leave my face even after the lotion has been absorbed. I'm now using it for dry elbows.
Back
to top