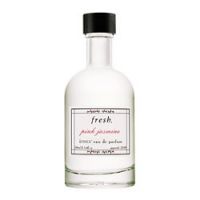 Fresh Pink Jasmine Eau de Parfum Spray
As low as
One of my absolute favorites

This is such a memorable and unique fragrance. It is so different from the other jasmine scented perfumes out there because this is not overly floral. The scent is clean, soft and lingering. People seem really drawn to this scent as well. I get so many compliments on this from friends, family and even strangers. I think it's such a shame that they don't carry this scent in the Sephora stores o...read morer online at Sephora anymore. You can, however, but this directly from the Fresh website. I have never loved a perfume as much as this.

My favorite perfume of all time

I wear pink jasmine everyday and I never get sick of it. It smells so clean and I also get tons of compliments! Despite the fact I've been wearing it for over three years I still love the way it smells!

Beautiful and feminine

This is my all time favorite fragrance. It's very feminine. This does not give me a headache like a lot of they heavy perfumes do. I get comments on this all the time. I was getting fitted for a heart monitor one day and the technician could not stop commenting on the smell. She wanted to know where to get it and how much it cost! My husband loves the smell, too. I feel really good when I wear this. I give a 9 only because the price is pretty high at $75.00.
Back
to top