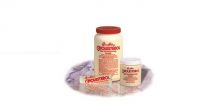 No No No

I love most of Queen Helene's products but not this one. The oil is wonderful but this cream is not. The directions are very complicated-you have to use heat which is not advertised on the front (like most people I do not read the directions until I have purchased the product and brought it home) Then it did not do much for my hair-even my quickie shower conditioners seemed to do more. I am done with this

repaired my damaged hair and tamed frizz

this product is awesome, you don't need to use it with heat and it still works great. only five dollars from walmart. :)

works great

If used correctly this item is great. My hair is so dry from over coloring. It says leave it on your hair 15-20mins, but I left it on for an hour. The next day my hair did feel a little limp and over conditioned, but now it is the softest it has been in YEARS!!!! Awesome and affordable product.
Back
to top