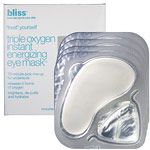 feels soo nice

looks pretty afterwards too

Pefect partner to the Bliss face mask!

It's a unique packaging system, a foil pack with 2 chambers. The liquid (oxygenating ingredients, vitamin C, and cucumber extract) is encapsulated in it's own chamber that you actually activate yourself without even opening the foil. It then saturates the two undereye pads that are enclosed. You then open the pack, place one of the soft pads under each eye– lay back and rel...read moreax for 15 minutes with your eyes closed. That was nice. There was a cooling effect involved which took some of my worries away because I could tell there was an anti-inflammatory effect going on. After 15 minutes, my eyes were soothed and de-puffed, and they felt rested. They were brighter underneath and there was a minimal smoothing effect on my fine lines. I imagine with continued use at 1 time a week for a month, I would notice more of a benefit. This is a perfect partner product to the Bliss Triple Oxygen Instant Energizing Mask, I would definetly buy the eye mask! It's a thumbs up from me!

Eye treatments

This mask left my under eye area revitalized and deputed. Their packing system is pretty cool: there's two chambers and you press on the liquid chamber to hydrate the masks. The you apply to the under eye area for 15 minutes. It felt very tingly and cool as I waited...
Back
to top