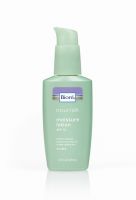 It smells ...

The smell is citrus-y--pleasant, natch--but I prefer for everything that goes onto my face to be odorless. Still, this stuff almost wooed me away from my beloved Olay moisturizer. It's rich but it absorbs well, and it doesn't clog my pores. And it's great that Biore added SPF.

Best Moisture/SPF lotion EVER!!!!

I was so disappointed when this (Biore Nourish Moisture Lotion SPF) was discontinued. I absolutely LOVED LOVED LOVED this product. My skin never looked or felt better when using it. I really wish Biore would bring it back.

Baaad

It broke me out and made my skin super oily. I don't like the fact that it's scented, though the smell itself isn't too bad. The packaging is cute, but it was a total waste of money.
Back
to top