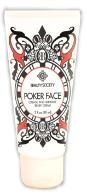 The best thing I have every used!

I love Poker Face. This is so very awesome. Since I have basically good skin, I often don't see dramatic results with products, but, with Poker Face I have. After using twice a day for two weeks I have seen a major reduction in lines, under my eyes and near my mouth and jaw. Astounding. Even my hubby said he could see a difference. Over all, my face looks firmer and more youthful. For a long time,...read more people have guessed my age at 10 - 15 years younger. Now, I don't know. i have sampled some of the rest of the line and will probably buy more items as I am so impressed with Poker Face. This has went straight to the top position in my holy grail list.

Beauty Society Poker Face Wrinkle Relief

This is the best thin since Botox. I only use it when I feel I need it. It took me a little while to figure out how to use this cream. The trick is to have a clean face free of any other products, then warm up a small amount and pat it on the area. I usually apply two layers and work the product into my skin until it disappears. It takes a little patience, but it's well worth it. I've have mine for about ten months now and it's only half way. I highly recommend this product.

Not It Says It Is

I bought this product over a month ago and I am very disappointed. Just a small amount was applied around my mouth and chin area where my wrinkles are deeper and around the crows feet. I wait the required two minutes before applying the rest of the line or Fake ID, Drama Free and Our little Secret, then the lifter cream and then moisturizer . I find that when I apply my foundation that the areas...read more that I have applied Poker Face to start to peel off, this doesn't happen if I just use a mineral powder for coverage. The entire kit is time consuming with having to allow each product applied to dry for a minute or more. After using this line for this long I have to say that I don't see any changes to my skin tone or wrinkles. Very disappointed I had hoped that I finally found a skin care line that was actually going to do what it said, oh, and another thing, the bottles are small and dark pink which makes it very hard to tell just how much you have left, I don't believe the kit would last 6 months as advertised for the $350.00, more like maybe two months and that's using it as recommended.
Back
to top