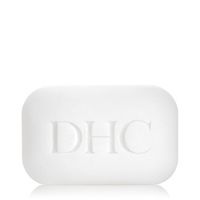 DHC White Soap
As low as
Raises the "Bar" for Soap!

When is a soap not just a soap? When it's DHC's "White Soap." I bought this when purchasing other DHC skin products because the price for a three-bar pack was reasonable ($11.00). It said it is non-irritating and leaves you "angelically clean." I liked the sound of that. I had no idea that I would fall in love, even to the point of becoming highly agitated when we were running low and my nex...read moret order from DHC hadn't arrived yet. What makes this soap so different? It is pH-balanced, great for sensitive skin and, thus, perfect for everyone in the family. The ingredients are super-moisturizing: Olive oil, olive leaf extract, and glycerin comfort skin, while the super-rich, creamy lather washes away every bit of oil, dirt, makeup, and grime you can imagine (it's easy to get carried away with the lush bubbles). This is the kind of soap for every single day, but you could count on it to clean you to a polished gleam if you had spent hours working with wet paint or playing in the sand. Because of the finely-milled quality, one bar lasts a long, long time. I've had guests ask why I have both liquid soap and DHC's white bar soap in my bathroom as well as in my kitchen. Because DHC cleans what any liquid soap leaves behind, in a soothing, luxurious way. Kudos to this company on quality, affordable products!

Worth every penny,

I am a big Dove soap user but for a few pennies more this soap is great. Just got 3 bars for ($9.) Lathers and softens and you do feel really clean.

Lathers Like Crazy

This soap cleans like no other and the lather is rich and effective. It leaves skin soft and smooth, not dry. I highly recommend it.
Back
to top