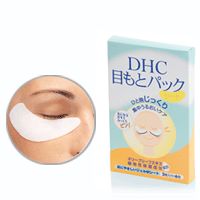 nice

These little strips give you a nice little "spa" feeling when you place them under your eyes and take a few moments to relax and let the product soak in. They're not really practical for everyday use, but they feel good on tired eyes. They don't smell too strong, and the product is not at all irritating or overwhelming. I don't know that they necessarily made a huge difference in my dark circle...read mores or fine lines, but they felt nice, and they're not too expensive, to they are a nice little break and fun to use

A Fan!

I tend to like DHC products anyway, but when the company had a sale on their Revitalizing Moisture Strips for Eyes, I decided to try them out. They are super refreshing and relaxing, plus they didn't bother my sensitive skin! They are easy to use - I usually apply mine during my bedtime routine!

I'm Mesmer-EYES-d!

I'm always searching for better eye products to minimize dark eye circles, under eye lines and puffiness, and this product does all three and more! After one use, I noticed that the skin around my eyes was instantly brightened, moisturized and appeared well rested. The gel like strips are placed upon your skin, under the eyes and adheres to your face comfortably, until you are ready to remove. ...read moreI found the strips to be cooling and relaxing. For maximum results, you can leave them on from 20 mins. to over night. I left them on for about 30 mins. for my results, but next time I will try leaving them on over night. You could probably use them about 2-3 times per week, but I am applying them once a week at night. I hope that all the ladies with under eye issues give this one a try. This is a really great treatment for eyes!
Back
to top