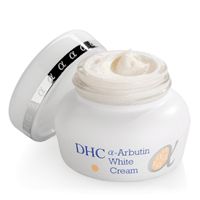 DHC Alpha-Arbutin White Cream
As low as
Whitening

This product reLly does make your skin whiter. You can see he difference in a several usage. However, I have a really oily skin and this product made me greasy. It is also very thick. I ended up giving product to my friend who has reLly dry skin. I would only recommend this if you have dry skin.

Baby soft skin...

I really like this cream. I have tried it as a sample from DHC and I found that it made a difference in my skin from just one application. I haven't used it for an extended period of time do that is why I haven't given it more stars. I have some freckles on my face naturally and I have found that the facial mask version from DHC of this cream lightened the darker spots and really evened out my ...read moreskin tone. So far, I have been really digging some DHC products. I can't wait to see what they will come out with next. Also loooove the free samples with every order!

Review subject

Love all of DHC 's Alpha Arbutin Line. Using it for a semester really made my skin brighter. Over winter break, my mom, my harshest critc (love her!) said she had never seen my skin so good. Then over the spring semester, I ran out of money and over summer break my mom and sister were appalled at the state of my skin.
Back
to top