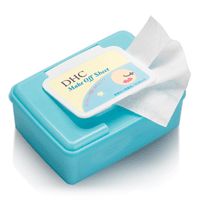 DHC Make Off Sheet
As low as
Disappointing, especially because I love DHC

In case you can't already tell from my reviews, I'm a big fan of DHC and have tried many of their products. This was the rare product that I was not thrilled with - matter of fact, they were a huge disappointment. I was looking for cleansing sheets not to use every day as a makeup remover, but as a quick way to remove makeup and get my face clean without being dried out on those late weekend night...read mores when all I want to do is fall into bed, but don't want to sleep before washing my makeup off. This didn't do it for me, after wiping my face with one of these it still didn't feel like all my makeup was removed, so I used a second. Rubbed my eyes hard, and still had eyeliner and mascara on. Not to mention my face still felt like it needed to be washed, and I wasn't even wearing my heavier foundation. So - it didn't get my face clean, and though it didn't dry my face out, I would have needed moisturizer afterwards anyways. It claims to be an "all in one" product - cleanse, tone, and moisturize - and I have to say, I felt like it didn't do any of those very well. I'm so used to my face feeling super clean from using Deep Cleansing Oil, I'm sure nothing will compare! I will keep searching for sheets to use once in a while though, something to keep in my bathroom and use as needed. Haven't found a favorite yet, but I have found several varieties I like much more than these.

SWEET

One step and you're done! I love this product! You just hold it over your eyes and then wipe and all your makeup gone. Good for taking off your and makeup and stubborn lipstick!

Great little helper

I am a fan of DHC products and thought that this product would help stream line my regimine a bit. Guess what? It did and I love it. I use an exfoliator cleanser in the morning, but in the evening I am just too tired. I take off my mascara and then remove the rest with one little sheet. I rinse my face and do my treatments & moisturizers. It is fragrance free and great on sensitive skin. I will never be without these low cost little helpers!
Back
to top