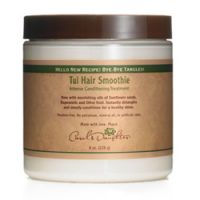 They've got to be kidding!

I don't mean to be politically incorrect, but the Carol's Daughter hair care line is definitely for African American people. I saw the owner of this company on HSN, and she is African American. Again, I do not intend any racial slurs, but when I used any of the hair care products from Carol's Daughter, my hair became weighted down (even with a small amount) and greasy. It also dried out my hair, which seems incongruous to being greasy!! I sent it all back to HSN.

One of My Favorite Deep Conditioners

I put it on my hair, then go under the hairdryer for 15-20 min. Afterwards, my hair is moisturized and feels silky. I will note that I am African American and don't think it will work well with other races, especially those with fine hair.

Love it!

This was really healthy for my curls, it was literally like my hair was drinking a smoothie, as strange as it sounds. I am half black, I don't think this will be good for people that do not have African American textured hair. But my hair is very soft. I use this once a week and I think it does repair all the damage I do to it with heat over the week. I will be buying more of this in the future. As with most Carol's Daughter's products, a little goes a long way!
Back
to top