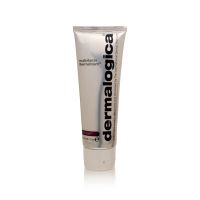 Dermalogica AGE Smart Multivitamin Thermafoliant
Harsh

Nice warming effect, feels nice in the winter, but I feel the grains are a little too abrasive for my sensitive skin. Beauty tips and tricks at blogspot: The Lady Grind Twitter: BCmakeup

good, but watch how much you rub!

This product is a powerful skin polisher that combines physical and chemical exfoliant to enhance the look and feel of your skin (while it infuses it wth age-fighting nutrients). Resurfacing microgranules gently polish off dulling skin cells, while a unique, thermal technology plus Lactic Acid activates upon contact with water to help cell turnover in the longer term. White Tea, Licorice and vitam...read moreins A, C and E help protect and provide antioxidant defense, and there's Prickly Pear Extract to accelerate your skin's natural exfoliation process, too. The thick, gel-like product has a slightly gritty feel that you gently massage in and then rinse clean and easy. (you can use this on damp or dry skin). It heats up a bit as you massage it in, which feels sort of nice. That being said, this is not an exfoliant for sissies-- if your skin is easily irritated and you don't want to look red afterwards, don't massage to hard or too long. However if, your skin can handle the recommended 2-3 times weekly, your skin will still look softer and smoother with less applications. Dermalogica is a company that provides lots of information about the ingredients and processes involved--visit the web site to see all the interesting ingredients in this one

Great product, just be gentle!

Multivitamin Thermafoliant is Dermalogica's newest addition to its super advanced Age Smart line. Let me tell you, this high tech/high power exfoliator means business. It could be really dangerous in the wrong hands… or really great for someone who can use it judiciously. I could rehash all of the science behind the Age Smart line, but just click here, here & here for more relate...read mored posts which explain how the AGEs, MMPs & ROS are involved. So, back to the Thermafoliant. This fine grain exfoliator is both a manual & chemical exfoliant which can improve skin tone & texture with a 1-2 punch. Lactic Acid, Salicylic Acid and Retinol (the chemicals) partnered with Silica, Magnesium Oxide and Sodium Bicarbonate (the manual grains) aggressively resurfacing the skin, while the self activated heating element helps to drive the anti-aging multivitamins (White Tea, A,C &E) into the skin's surface. I tried some out today and I just have to say WOW. It left my skin very soft and smooth. However I would worry that this could easily be over used, resulting in an extremely aggravated & disturbed skin barrier. They recommend 2-3 times a week but if you are using any type of prescription retinoid, etc. (as I do) I'm not sure I would go anywhere near it. As always, I'm a big lover of the brand, so if you are in the market for a new scrub, give it a whirl… just be GENTLE, and make sure to wear your sun block after words!
Back
to top