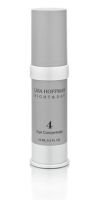 Lisa Hoffman Night Eye Serum
As low as
eye serum of choice

You can cheat and use it during the daytime, too. At least I do! Leaves the eye area feeling very revitalized. It smoothes it out well; I appreciate what it's done in terms of anti-aging. It's not a de-puffer, though in the general aide it provides this is sort of a secondary benefit. I do not usually get dark circles, but when I use this I never, ever do. I like the packaging of this, tube ...read moreform, because I won't touch products that come in jars and then put them on my face over and over. This isn't priced like something you would get a drugstore, but it is also not particularly unreasonable. I have certainly tested pricier things that didn't work nearly as well. Recommend this eye serum!

how to wake up healed

I love this; I wake up in the morning after having used it the night before and I look so much better than I would have without it. I wouldn't normally describe the skin around my eyes as "perky," but the serum brings it a lot closer, as it just leaves the area very smooth and very even-looking.
Back
to top