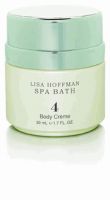 Lisa Hoffman Body Creme
As low as
Mixed feeling

The fist thing I noticed was the scent. It had a rich floral scent, mainly coming from orchid I assume. The creme was not too heavy or thick, and it absorbed into my post-scrubbed/exfoliated skin quickly. My skin felt hydrated and smooth. But unfortunately, the fragrance was a bit too strong for me. It left lingering fragrance on my skin for a while. Once the smell gradually faded away, I was able...read more to enjoy more. The strength of the scent was equivalent to a perfumed body lotion, which I only wear to special occasions. Therefore, I did not buy the full size product, but still got a sample size instead. I read the insert stating that a portion of the sales are donated to the rain forest foundation, I think that's a a great cause, but I am just not too crazy about the scent of this creme. If you love a perfumed body creme/lotion, you will love this creme much more than I did.

when you can't say no...

Like the person before me said, it's true this body cream has a high price point. But for me, I find it's so nice, it's hard to resist. Also, one thing I would say that makes a difference with this cream is that a portion of the profits are donated to the Rainforest Foundation, because some of the ingredients come from there. I bought this cream when I was in LA, and the saleslady was the one w...read moreho told me about the sustainable ingredients. This is really important to me, so it definitely swayed me in terms of picking out the cream! It goes above and beyond just avoiding harsh chemicals.

Love is in the air!

I love this body creme. It goes on so velvety smooth. And the smell is so pleasant. I just wish the price wasn't so high.
Back
to top