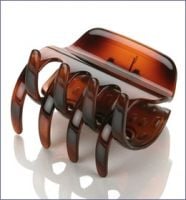 Scunci Thick Hair No-Slip Grip Chunky Jaw Clip
As low as
LOVE THIS!

I have thick and heavy hair and the Scunci Thick Hair No-Slip Grip Chunky Jaw Clip is the ONLY jaw clip that holds my hair. I only by products like this that have the Scunci No-Slip Grip because they are the only ones that keep my hair up all day. This jaw clip is very high quality and worth picking up!

This is the only clip that works for me!

I have very long thick hair and I love this clip it's the only clip that will hold ALL of my hair and doesn't damage my hair in the process. One of the teeth recently broke and I can't find them anywhere....if/when I do, I will be buying a bunch....I love them!!