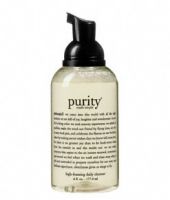 Listen to the others--the original is better.

First off, if you have more oily skin, it is recommended that use use more of a foaming wash, such as this. If you have drier skin, use a creamier wash like the original Purity. I remove my makeup with a wipe prior to cleansing my face anyways so I'm not particularly concerned with whether or not it has the same ability to remove makeup like the original. Although I like how well this foams when y...read moreou pump it out, it leaves me with a tight squeaky feeling that I am not particularly fond of. I like the original Purity because it didn't leave a tight feeling. My biggest complaint is how fast this bottle seems to blast through. I feel that I get more uses out of the original Purity because it was a more potent cream cleanser, than this foam cleanser which requires more to clean your face. Although some people may rave about this, I prefer the original.

good

Love this product. Use only a LITTLE for maximum results. Have to use eye makeup remover before cleansing - but all mascara traces are gone. With other products, there is still some mascara traces left behind. A bit expensive - but it lasts a really long time because you use so little. acne prone skin throughout my adult years. After using this product daily, I no longer have acne and no flare-up...read more breakouts. This product smells amazing and leaves your skin feeling like silk. If you are considering this product, do not hesitate. It is the best!

Stick With The Original

This version burns my eyes, doesn't remove makeup like the original and its more expensive. I returned it after a few uses.
Back
to top