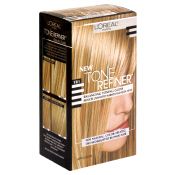 L'Oréal Paris Tone Refiner
As low as
Good product

I have used other L'oreal Paris hair color which has made my blonde hair very brassy, requiring me to go to a beauty supply store to buy toner. This really works with the L'Oreal hair color systems which tend to make blonde on the brassy side.

Slightly eliminates brass; adds shine; pricey

This product is now in updated red packaging. Left my hair in great condition, eliminated a little brass and added slight shine to my colored/highlighted blonde. Very easy to apply, no drip, you leave it on 5-10 min. The conditioner included is WONDERFUL. Two negatives: 1) The price - it's a little pricey [$8-10] for one application considering you can buy a bottle of "purple" toning co...read morenditioner for the same price/many applications. 2) This product didn't reduce brass in my hair even half as well as Clairol Shimmer Lights "purple" conditioner. In fact, after using Shimmer Lights I edited this review, because I saw so much more brass elimination with the purple conditioner than I did with the Tone Refiner. For the price of one application, and how it just didn't do the trick, I'd have to say I won't purchase this product again.