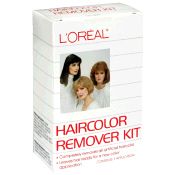 L'Oréal Paris Haircolor Remover Kit
As low as
do not use, will kill hair!

I used this in college when I decided i didn't want my black hair any more and wanted to go back to red . Yeah it removed the hair color, but after using this, i was lucky I still had any hair left. My bangs, which I had previously attempted to highlight a few months before, broke off a couple inches from the roots, the rest of my hair was severely damaged. In the days following my using this, whe...read morenever I would brush my hair most of my strands had serious breakage. I had to go to my local hair salon to get my chin-length hair cut very short (think as short as Halle Berry's hair before she grew it out) and used a protein pack conditioner for a week. If you need hair color removed, get it done by a professional. The only reason I gave it one star is because they won't let me give it zero stars.

my experience of using this product

No where on the box does it say that it's bleach. What I intentionally wanted to do... What I was originally hoping for, was for this product to pull the color from my hair... leaving my hair it's virgin natural color... It was going to be a really pretty light brown color and I was going to put some light high lights into it. So I bought the product and the high lights both from l' o real. My hai...read morer was black aside from my roots which were brown and starting to come in. Well, I did talk to a hair consultant and the product was recommended by her so I took her advice, Came home and decided to try it. I was excited to see the outcome, but I decided to wait it out a little so I went into my room and semi started watching the messengers while keeping an eye on the clock. I decided to check on my hair and that's when I noticed it... The top of my hair was blonde and the bottom was still black... Keep in mind that I covered my entire head in this product... It was starting to burn my scalp so instead of letting it finish I just washed it out... I was very upset that I wanted to cry, but I didn't... Instead I walked back to the store and bought a cheap box of hair dye... I was hoping for the natural look, but instead I'm back to looking gothic and flushed.... and because I'm a waitress, I've been getting stiffed a lot more....... aka $1/ 5 people per table... Also I'm a good waitress, I know what I'm doing..., but the second that they see a gothic waitress.... -.-; Now I have to wait it out before I can get that natural look again... Products like this should NOT be mislabeled... It only ends in disaster. Now that I know how it works I won't buy this product ever again.

Removed a Bad Color Job

I colored my hair and highlighed it and did not like the outcome so I bought this product. I did do the strand test like the instructions said to see if my hair was healthy enough to use this product. After seeing that my hair did not break I used it on my hair it worked faster than expected so you really have to keep an eye on your hair. It took the color out of my hair and I recolored right a...read moreway. My hair is soft and not damaged. I think the key with this product is that you have to have healthy hair to use it, and you definatly should do the strand test. I have never done my own hair but with these high prices I want to try and save some money, I usually highlight my hair but, now have just one color my next step is to find a highlighter that will not damage what I have now. It's scary doing your own hair but, I think if you read everything you have a good chance things will come out okay.