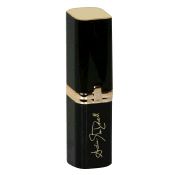 Diane's Tuberose

Diane's Tuberose is my everyday shade. I love this product. It wears very well, looks natural, and does not feather. It is non-greasy and not overly fragrant.

Horrible smell

This line had some great colors, but I could not get past the smell. I know this is the classic loreal scent, but I do not like to taste or smell my makeup and haven't been able to get over that. I gave my Andie Mcdowel lipstick to my sister and might give two of the others I bought to my mom who the scent doesn't bother. I would not rebuy.

good colors

i got eve longorias shade even tho i am not her color/tone. it is still a really pretty, natural looking color and it feels really soothing and smooth on my lips. the only complaint is that it really comes off very easily, and seems to wear off even if you arent eating or drinking.
Back
to top